One Night with Sole Regret
One Night with Sole Regret started as a series of short erotica novellas, each showcasing one night of passion experienced by each member of the band, Sole Regret. It's since morphed into a band saga filled with plot twists, shocking revelations, rivalries, and yeah, a lot of sex. The series is ongoing with fifteen volumes planned for release. Get hooked on the band who've discovered that when you're rich and famous, finding love is easy, but keeping it is hard.

Try Me
Sole Regret
Book 1
Melanie has no desire to meet the members of the rock band, Sole Regret, but her groupie of a best friend gets them both backstage and then rushes off with the band's lead singer. Left alone at an after party with a bunch of scary tattooed and pierced metal-heads, sheltered Melanie is relieved when the only normal-looking guy in the room insists on keeping her company.
By the time Melanie discovers that Gabe is the band's drummer and not as normal as she assumed, she has already made a complete fool of herself. She can't help but be interested in him, not as a rock star, but as the sexiest man she's ever encountered. Strangely attracted to his hidden tattoos and body piercing, she wonders what it would be like to spend a night with a bad boy.
Gabe is more than willing to show sweet Melanie there's more to him than meets the eye. All she has to do is try him. Will they only share a single night of passion? Or will their hearts entangle as quickly as their bodies?
Try Me is the first erotic novella in Olivia Cunning's One Night with Sole Regret series.
Contains explicit sex, graphic language, and a hot rock star with a naughty and inventive mind.

Tempt Me
Sole Regret
Book 2
One more night…
For almost a year, Madison has been Adam's hook-up every time his band, Sole Regret, tours through Dallas. But in spite of the way he sets her body ablaze with passion, the occasional night of rock-her-world sex isn't enough anymore. She needs a commitment and knows that won't fit into Adam's rock-star lifestyle.
To tempt him…
Life isn't all bright lights and fan adulation for the lead guitarist for Sole Regret. Madison has seen Adam at his worst and still managed to bring out the best in him. Her cleverly concealed naughty side also brings out the beast in him. He's never met a more tempting woman in his life. But is he really ready for commitment?
Tempt Me is the second novella in Olivia Cunning's Sole Regret series. This 39,000 word erotic romance novella contains explicit sexual situations, including some rough backdoor lovin', hair-pulling, spanking, and whole lotta dirty talk.

Take Me
Sole Regret
Book 3
She is one woman he should never touch…
Sole Regret's enigmatic vocalist, Jacob "Shade" Silverton, is a consummate womanizer, but even he knows better than to get involved with one special woman from his past. Mixing friendship and pleasure can only lead to a broken heart, and he's suffered enough heartache to swear off relationships for a lifetime.
He is one man she has always desired…
Amanda Lange knows all about Shade's naughty reputation, but that doesn't stop her from wanting to dive into the gorgeous rock star's arms and his bed. She convinces herself that one night of passion won't complicate their friendship, but can she convince him of that?

Try Me, Tempt Me, Take Me
Sole Regret
Bundle: Books 1, 2, 3
This bundle contains three novellas from the best-selling One Night with Sole Regret serial series. In addition to ebook, it is available in paperback and audio book.
In TRY ME, Sole Regret's crafty drummer, Gabe "Force" Banner, seduces a straight-laced accountant before she realizes she's talking to a rock star.
In TEMPT ME, Sole Regret's troubled lead guitarist, Adam Taylor, might finally be ready to commit to the woman who saved him from a life of despair and abuse.
In TAKE ME, Sole Regret's enigmatic vocalist, Jacob "Shade" Silverton, tries to keep his cool around one off-limits woman from his past, but she just might be too hot to resist.

Share Me
Sole Regret
Book 0
A prequel to One Night with Sole Regret
After a benefit concert, Lindsey longs to spend an amazing Christmas Eve with her favorite band, Sole Regret, to thank them for their generosity. Even though she followed their tour bus up a slick mountain pass during a blizzard, she never expected to spend an entire snowy night with two generous rock stars who love to share their gifts. Trapped on a tour bus with her best friend, a rock band, and the bus driver, what can these naughty ladies possibly do to keep warm? Perhaps a better question is what won't they do?
Contains a whole lot of kinky antics. Sensitive readers, beware.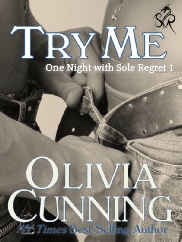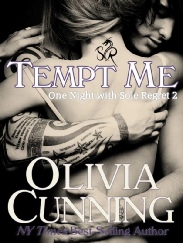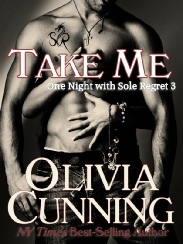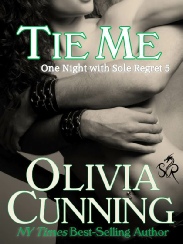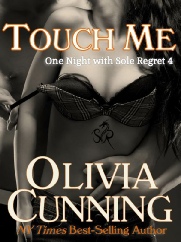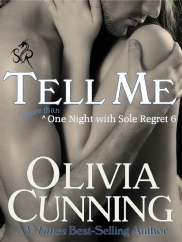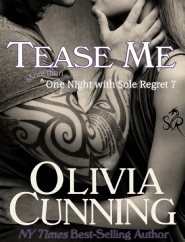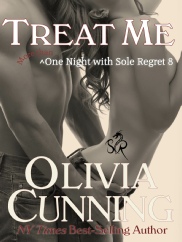 Tie Me
Sole Regret
Book 5
Share Me, Touch Me, Tie Me
Sole Regret
Bundle: Books 0, 4, 5
Touch Me
Sole Regret
Book 4
Tell Me
Sole Regret
Book 6
Tease Me
Sole Regret
Book 7
Tell Me, Tease Me
Sole Regret
Bundle: Books 6, 7
Treat Me
Sole Regret
Book 8
He went there looking for a sure bet…
Sole Regret's bassist, Owen Mitchell, is convinced that romance is for chumps. He's only looking for a good time, and when he spots an attractive, older woman emitting men-suck vibes at a brand new sex club, he's sure he's found it.
She went there hoping to get over her ex-husband…
Successful business woman, Caitlyn Hanson, is still infuriated and hurt over her ex-husband's affair with a much younger woman. She's only looking to scrub his claim from her body by offering it to the first attractive man who shows her interest, and the young, hot stud, who just sat down at her table, will do quite nicely.
Preferred reading order of this series:
Try Me
Tempt Me
Take Me
Share Me
Touch Me
His heart is tied to his past…
When Sole Regret's rhythm guitarist, Kellen Jamison, vowed to be faithful to his fiancée and love her forever, he meant it. He never expected to lose her to cancer so early in life. He's certain he'll never love again, but destiny has another plan for him.
Her heart is tied to her work…
Grammy-winning classical composer and piano virtuoso, Dawn O'Reilly, is overwhelmed with music-writing deadlines, a fickle muse, and high-expectations. She doesn't have time to find love, but chance seeks to interfere with her carefully devised plans.
Will the ropes Kellen uses to secure Dawn's body be the force that binds them together or ultimately sever all ties between them?
This bundle contains three novellas from the best-selling One Night with Sole Regret serial series. In addition to ebook, it is available in paperback and audio book.
Volume 2 includes:
In SHARE ME, Lindsey follows Sole Regret's tour bus up a snowy mountain pass and spends Christmas Eve getting to know the musicians better than she ever imagined.
In TOUCH ME, Sole Regret's bassist, Owen, meets Caitlyn in a sex club. She's looking to forget her cheating exhusband and Owen knows how to heal her tattered ego.
In TIE ME, Sole Regret's broken-hearted rhythm guitarist, Kellen, has mourned for his lost love for five lonely years. Can a beautiful, classic-music composer finally break through the wall around this rock star's heart?
He had planned a perfect weekend for her…
Gabriel "Force" Banner has been unable to get a certain sexy accountant out of his head. Sole Regret's inventive drummer has created big plans to keep sweet Melanie entertained all weekend long, but she comes with some unexpected baggage.
She didn't mean to make things difficult…
Melanie wouldn't blame Gabe if he left her at the airport with her baggage, but he's determined to make their limited time together work. When they leave behind the rock 'n' roll scene to visit his serene oasis, their romantic weekend seems to be back on track. But life has a way of butting in at the worst possible times.
She showed him how to love…
The lead guitarist of Sole Regret had always walked the world alone, until he opened his heart to his sweet rehab counselor. Adam Taylor normally shirks responsibility and lives in the moment, but the tender emotions that Madison draws to the surface has him considering his future for the first time. Can a woman like her be happy with a train wreck like him?
He showed her how to live…
Since Madison Fairbanks started dating Adam, her entire life has been turned upside down and while his impulsive, reckless side causes her passion to burn bright, it also tends to put her in uncomfortable situations. Are they too different to be together?
This bundle contains two lengthy novellas from the best-selling One Night with Sole Regret serial series. In addition to ebook, it is available in paperback and audio book.
In TELL ME, Sole Regret's drummer, Gabe Banner, has an incredible weekend of romance planned for his new girlfriend, Melanie, but she ends up with some unexpected baggage that drives a rift between the insatiable lovers.
In TEASE ME, lead guitarist Adam Taylor, finally has his life together and is ready to take a huge step in his relationship with his rehab counselor, Madison, but she isn't necessarily on the same page.
Nothing's fair when love is war…
From the outside, Sole Regret's lead vocalist Jacob "Shade" Silverton has it all—fame and fortune, success and talent, self-confidence and sex appeal. He also has a sweet, young daughter who rules his heart. On the inside, he knows something's missing from his perfect life and longs for the right woman to make his broken family whole.
Amanda Lange wouldn't mind filling the vacancy. She adores his daughter and she's had a crush on Jacob for years. Their time together as a new couple and with four-year-old Julie in tow is everything she's been dreaming of. But they have this little problem. Jacob's ex-wife is Amanda's sister, and Tina isn't likely to offer her blessing.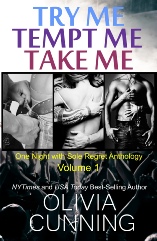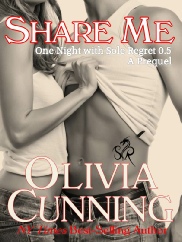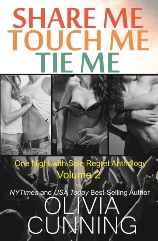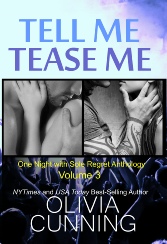 Thrill Me
Sole Regret
Book 9
He's ready for more…
Sole Regret's sex-obsessed bassist Owen Mitchell has always rocked with the ladies and rolled with the punches. He knows Caitlyn's just looking for a fling with someone more fun and adventurous than her ex-husband, but Owen is drawn to the geeky temptress like a rocker's drawn to a heavy riff. He'll keep thrilling her in the bedroom to keep her coming and coming back for more. He has faith that someday she'll admit they're meant to be together.
She's not sure where this is going…
Successful in life but not in love, Caitlyn isn't ready for a serious relationship so soon after her painful divorce. But she's more than ready for a good time.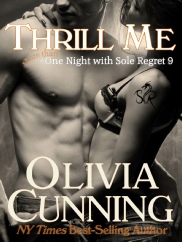 Treat Me, Thrill Me
Sole Regret
Bundle: Books 8, 9
This volume includes two novels -#8 and #9- from the best-selling One Night with Sole Regret serial series.
In TREAT ME, Sole Regret's sexy vocalist, Jacob "Shade" Silverton, spends a perfect weekend with his new girlfriend Amanda, and his young daughter. He is ready to come clean with his ex and let her know he's dating her sister, but Amanda doubts their relationship will survive her sister's scorn.
In THRILL ME, Sole Regret's sweet bassist, Owen "Tags" Mitchell, has found his perfect match. Caitlyn is smart, fun, and has a list of sexual fantasies he's prepared to fulfill. Unfortunately, a pregnant groupie is convinced he's the father of her baby and is determined to make him hers.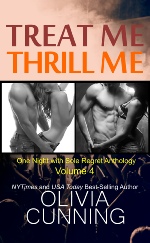 Treasure Me
Sole Regret
Book 10
He's trapped by his past…
Just after Sole Regret's soulful guitarist Kellen Jamison traded his five-years of abstinence for a tying good time with a beautiful classical composer, his past comes back to haunt him once again. Kellen must decide who he treasures most…
She's blinded by her future…
Dawn O'Reilly is well on her way to her happily ever after. Her latest composition is making waves in Hollywood, and opportunity is practically knocking her door off its hinges. She's met the man of her dreams, and they click on such a deep level that she knows he's worth the fight—even if all he's fighting are ghosts. But can she ever really be his treasured one? Or will someone else take the coveted spot in his heart?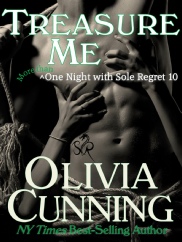 Trust Me
Sole Regret
Book 11
Gabe "Force" Banner's life is a mess. The only career he knows and wants is to be the drummer of Sole Regret, so he will try anything to get his band back together. But how can he fix this mess when his bandmates aren't even speaking to each other?
Melanie Anderson's life has finally come together. She has a stable career, a solid family foundation, and her future looks bright, but is she totally willing to rock that sane world for a chance to be with a rock star she never imagined she'd grow to love?
For their very different worlds to come together, Gabe and Melanie must learn to trust each other and to trust their love. Will Gabe's uncertain future tear them apart, or can it bring them closer together?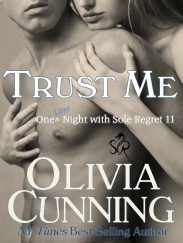 Treasure Me, Trust Me
Sole Regret
Bundle: Books 10, 11
In TREASURE ME, Sole Regret's troubled guitarist, Kellen "Cuff" Jamison, struggles to get over a past love and is hopeful that his new, treasured lover, Dawn O'Reilly, is the balm that will heal his tattered soul. But Dawn's career as a Hollywood composer is about to take off, and he'd never dream of holding her back. Can their fragile new love overcome his tragic past and her bright future?
In TRUST ME, Sole Regret's inventive drummer, Gabe "Force" Banner, doesn't know how to proceed when his life as a rock star is suddenly torn away. His girlfriend, Melanie Anderson, is willing to turn her own stable world upside down for a chance to spend her life with him, but with no stability in his life, he's not sure he can ask it of her. Can they learn to trust the strength of their love?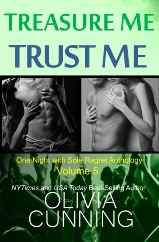 Love Me
Sole Regret
Book 12
Lindsey Parker's entire life changed the night a wayward sperm decided she should become a mother. Unfortunately, she's not sure who fathered her child one wild winter night on Sole Regret's bus. Can Lindsey convince her favorite rock star to love her?
Sergeant Chad Mitchell's entire life changed the day he triggered an explosive device. When Chad opens his eyes to an ethereal beauty's smiling face, he's sure that he has died and gone to heaven. But can angels get pregnant? He soon discovers that Lindsey is no angel, but he can't help being drawn to the one person who doesn't look at him and compare what's left to his former glory. She admires him for who his is now. Too bad her heart belongs to his rock star little brother. Can Chad convince his favorite groupie to love him instead?