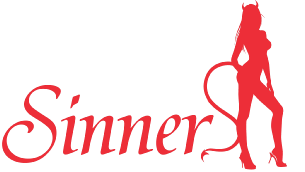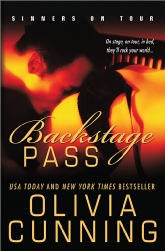 Sinners on Tour
Intensely erotic, the five full-length, stand-alone novels in the Sinners on Tour series kick-started Olivia's career as one of the most well-known authors of both explicit erotic romance and the rock star romance genre. Fall in love with the kinky, passionate and oh-so-talented men of Sinners, but heed this warning: if you can't take the heat, stay off the tour bus. For the insatiable Sinners' fan, extra novellas about each band member have been released and more are planned for the future.
Backstage Pass
Sinners on Tour
Book 1
For him, life is all music and no play…
When Brian Sinclair, songwriter and lead guitarist of the hottest metal band on the scene, loses his creative spark, it will take nights of downright sinful passion to release his pent-up genius…
She's the one to call the tune…
When sexy psychologist Myrna Evans goes on tour with the Sinners, every boy in the band tries to seduce her. But Brian is the only one she wants to get her hands on…
Then the two lovers' wildly shocking behavior sparks the whole band to new heights of glory…and sin.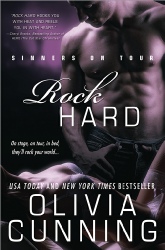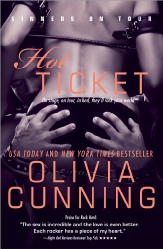 Rock Hard
Sinners on Tour
Book 2
An ultimatum can break your heart…
Every night lead singer, Sed Lionheart whips thousands of women into a frenzy with his voice alone. But the stage is the only place Sed feels any passion since he lost Jessica…
If you're not willing to break all the rules…
It shattered her heart, but law student Jessica broke off her engagement to Sed, determined to be successful on her own terms. But no other man measures up to Sed…
Then a chance meeting and tortuously close quarters lead to uncontrollable flares of passion. Now, in addition to the risk of mutual heartbreak every time they get together, they're in danger of truly scandalous public exposure…and sin.
Hot Ticket
Sinners on Tour
Book 3
He needs her to mask his pain…
When Jace walked through the doors of Aggie's dungeon, the last thing he expected was to find self-forgiveness and the love of a remarkable woman. But when a terrible accident sidelines Jace during the band's tour, the burdensome chains of his past wrap ferociously around his heart.
She needs him to forgive himself…
Determined to crack through Jace's armored shell, Aggie must go beyond her usual methods to mend his heart to love again. And might find a bit of love for herself in the bargain.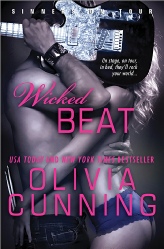 Wicked Beat
Sinners on Tour
Book 4
She's a little wicked…
From the moment he lays eyes on Sinners' new front of house soundboard operator, drummer Eric Sticks knows he has to make Rebekah his. Unfortunately, she's too busy trying to seduce guitarist Trey Mills to pay him much attention.
He rocks to a different beat…
Rebekah never planned to fall for the tall, goofy drummer with the weird sense of humor and huge heart, but Eric makes her laugh and his attention makes her feel sexy and irresistible–exactly what she needs after surviving cancer. A woman who gives as much as she takes, Rebekah makes Eric feel like a total stud–exactly what he needs after surviving a decade of watching his talented bandmates take center stage.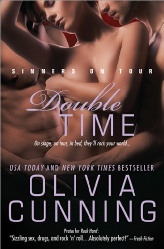 Double Time
Sinners on Tour
Book 5
He craves her music and passion
On the rebound from the tumult of his bisexual lifestyle, notoriously sexy rock guitarist Trey Mills falls for sizzling new female guitar sensation Reagan Elliot and is swept into the hot, heady romance he never dreamed possible.
She can't get enough of his body
Ecstatic to be on tour learning the ropes with Trey's band, Sinners, Reagan finds she craves Trey as much as she craves being in the spotlight.
They Both Need More…
When Reagan's ex, Ethan Connor, enters the scene, Trey's secret desires come back to haunt him, and pleasure and passion are taken to a new level of forbidden desire.




Sinners at the Altar
Sinners on Tour
Book 6
Sinners need love too...
Sinners at the Altar includes four complete wedding stories, each about a different member of the rock band Sinners. These novellas are intended to be read after the Sinners on Tour series as each story is an epilogue to a different book in the series and thus riddled with major spoilers.
6.1 Appetite for Seduction (Brian)
6.2 Sweet Love of Mine (Eric)
6.3 Patience (Sed)
6.4 November Rain(Jace)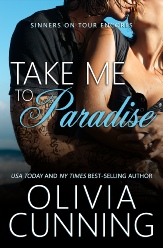 Take Me to Paradise
Sinners on Tour
Book 7
They've already had their happily ever after...
Sinners' lead guitarist Brian Sinclair is desperately in love with his new wife, Myrna. The only thing that could make their lives together more perfect is if they started a family. Try as they might--and they do try, and try, and try--it doesn't seem as if Myrna will ever conceive. The newlyweds decide to take an overdue honeymoon to Aruba while Brian waits for his band to go back on tour.
But is someone trying to take their happily ever after away…
Not all is right in paradise. One of Brian's overzealous fans keeps interrupting the happy couple's alone time. And it seems there's more behind this fan's actions than just exuberance for one of his favorite musicians.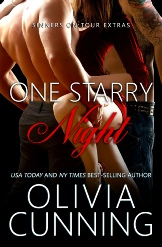 One Starry Night
Sinners Extra
Michelle isn't sure why she decided to come to her high school reunion, but she's glad she did. There she reunites with the nice boy she should have dated in high school--millionaire Devlin McAllister--and the bad boy she wished she hadn't--Sinners' roadie Jake Tremaine. The problem lies in the fact that she's now attracted to both of men; she wants both of them, but how can she possibly choose between two gorgeous men both vying for her attention? Why should she have to?
This stand alone menage story contains sexually explicit scenes with M/F and M/M pairings as well as M/F/M and M/M/F triages.
































Almost Paradise
Sinners on Tour
Book 8
He'd better invest in some snow pants...
Sinners' fun-loving drummer Eric Sticks recently married his perfect woman. Well, she's almost perfect. Rebekah's idea to take a honeymoon road trip from their Southern Californian home to Bangor, Maine in December is far from perfect.
She has the perfect plan…
Rebekah isn't determined to go to Bangor to cause Eric's butt to freeze. She's discovered part of Eric's past is still in Maine. Going there will be the perfect ending to a perfect honeymoon spent driving across the country in her perfect minibus with her perfect sweetheart. And she's willing to play dirty to win her wager with Eric by putting her mind—and her body—into seducing him. It's Bangor or bust and she's betting on Bangor.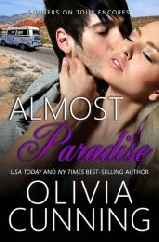 Lost in Paradise
Sinners Extra #2
He has a new set of worries…
Sed Lionheart just married the love of his life, is about to head overseas on a sold-old concert tour and has a new album at the top of the sales charts, so why is he having recurrent nightmares?
She has a new set of doubts…
Jessica Chase just married the man who drives her wild both inside the bedroom and out of it, so why won't Sed open up to her about his nightmares?
When the happy couple gets stranded with nothing to eat but Jessica's atrocious cooking, can they work as a team to find their way back to paradise?