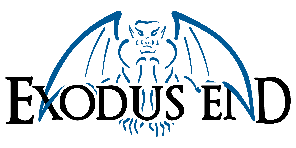 Exodus End World Tour
Exodus End is a spin off of the Sinners' series. Like the Sinners on Tour series, one full-length stand alone novel is planned for each member of the band. While the band members may be at the top of their careers and know their way around an instrument and a woman's body, none of them have found that special someone. Yet. How hard does a man fall when he's at the pinnacle of stardom? Step aboard Exodus End's bus and their private jet to find out.

Insider
Exodus End
Book 1
Toni wants to be an insider. Logan just wants inside her.
She's finally ready to rock...Toni Nichols set aside her dreams to raise her little sister, but now she's reaching for the stars as the creator of a revolutionary interactive biography about Exodus End. She's on tour with the band to immerse herself in their world, but how will she gain the trust of four veteran superstars?
He's always ready to roll… Adrenaline junkie Logan Schmidt lives for the rush of playing his bass guitar before thousands of screaming fans. When he's not performing onstage or in the bedroom, he's looking for his next thrill in extreme sports. So why does a sweet, innocent journalist get his heart pumping and capture his full attention? Can he trust a journalist with his secrets and his heart?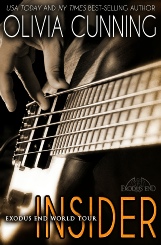 Outsider
Exodus End
Book 2
Reagan Elliot should be living her dream...
She's touring with Exodus End as their new rhythm guitarist and gaining more notoriety and fame than she ever imagined possible. She's earned the devoted love of not only one, but two spectacular men. Her committed threesome with sexy guitarist Trey Mills and her hunky bodyguard Ethan Conner is stable, loving, deep, and satisfying for all involved. But sometimes the world sees things differently and is determined to destroy what it doesn't understand. Can Reagan's relationship with Trey and Ethan survive the cruel backlash of the media, her family, and a bigoted public? Or will the talented musician lose everything she holds dear in the face of her own burgeoning doubts?