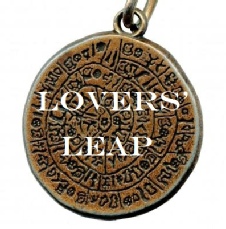 Lovers' Leap
Lovers' Leap is a departure from Olivia Cunning's norm. There's still love, adventurous sex and humor, but in this serial series, you follow one couple traveling through time assisting star-crossed lovers with their problems. The first two volumes have been out for a while, and Olivia does plan to get back to writing this series someday soon. She misses the hero, Reece, and can't wait to see what naughty trouble his sexy self gets into next.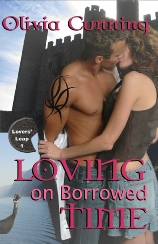 Loving on Borrowed Time
Lovers' Leap
Book 1
Lara Kensington is living a perfectly mundane life as a museum curator, when bad boy treasure hunter, Reece Jerhico, leaps into her life. Literally. Obviously distressed, Reece tells Lara that one year in the future she will be murdered and claims to be her future fiancé. Before he can convince her that he's sane, the broken amulet he wears around his neck transports them into different bodies, during a different time, in a different place--an ancient place, a cold place, a place where Lara arrives naked, hysterical, and... Norse. They leap again, and now Reece is a knight.
On the run through time, attempting to escape a man who is hell-bent on Lara's lack-of a-future becoming a reality, the couple really is loving on borrowed time.




Twice upon a Time
Lovers' Leap
Book 2
When Lara and Reece arrive at their next leap to the past, she discovers her lover is missing more than his pants. How are they supposed to help a eunuch and a princess find love? And who would have believed that a harem is one of the most dangerous places on Earth? Death threats. Group sex. Sensual massage. Okay, so it isn't all bad, but managing a love affair with one man can be a challenge. With two of them? And a woman?
When they leap again, Lara finds there isn't love in Hana's heart for the handsome samurai beneath her blade, but vengeance. He's convinced she's his soul-mate. She's convinced he needs to die. Can the pair ever make love not war?